Sports Injuries
More than 200,000 sports injuries are prevented each year by wearing mouth protectors made of soft plastic. Children and adults who play sports should always wear protectors whenever an activity presents a risk for falls or head contact with equipment or other players. Those sports included are football, baseball, hockey, soccer, martial arts, skateboarding, snowboarding and gymnastics.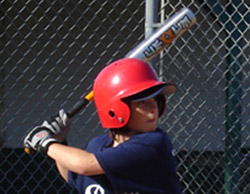 Mouth protectors not only protect teeth, but also reduce the force that can cause concussions, neck injuries and jaw fractures. Pre-formed or "boil to fit" mouth guards can be purchased at sporting goods stores, but those devises can differ by type or brand in terms of the comfort and protection they provide.
Custom mouth guards designed by your dentist cost a bit more, but are more comfortable and more effective at preventing injuries. These are the most satisfactory of all types of mouth guards and fulfill all the criteria for adaption, retention, comfort and stability of material. They interfere the least with speaking and studies have shown that the custom made mouth guard has virtually no effect on breathing.
Keep your kids (and adults) off the "injured list" with a custom made mouth guard from Dental Associates of Newton Falls.